These two radio broadcasts were really interesting to listen to. I found the first part to be more interesting though that part two. Part one's coverage of the Normandy School District being dissolved was sad enough, knowing that all those students had been failed by the city and the state. What was even worse was the meeting held at the new school district, Francis Howell. Listening to those parents go from bad to worse in the tone of their comments was disheartening. Two women in particular stuck out to me. First was the woman who made a connection to the public transit system running through. She said,
"Years ago, when the MetroLink was being very popular, Saint Charles County put to a vote whether or not we wanted the MetroLink to come across into our community. And we said no. And the reason we said no is because we don't want the different areas-- I'm going to be very kind-- coming across on our side of the bridge, bringing with it everything that we're fighting today against."
She was worried that poorer people of a different race coming over to her city or just passing through would somehow bring violence or worse, people that didn't fit in with the image this woman had in mind of how her city should be. What amazed me the most was how emboldened the crowd got as the meeting went on. Like this woman who said,
"This is not a race issue. And I just want to say to-- if she's even still here, the first woman who came up here and cried that it was a race issue, I'm sorry. That's her prejudice, calling me a racist because my skin is white, and I'm concerned about my children's education and safety."
[CROWD APPLAUDS]
"This is not a race issue. This is a commitment to education issue."
To say that this isn't a race issue is a complete lie, especially when a woman before her said in a "very kind" manner that she didn't want people of a different race coming
to
their side of the bridge. As much as they tried convince themselves and everyone else that education was the issue, race was the real issue.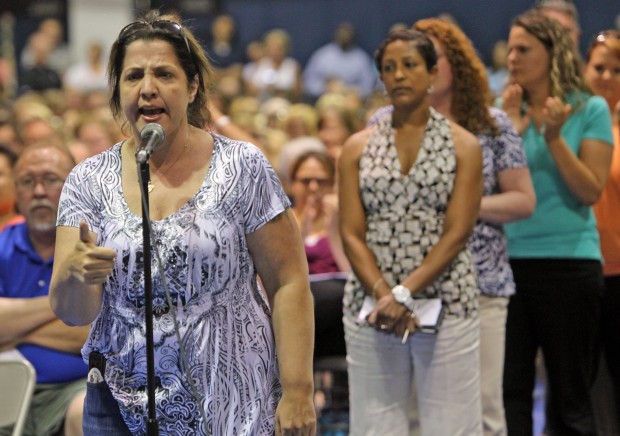 An image from the Francis Howell-Normandy meeting
The second broadcast was definitely more uplifting but I found less interesting as a whole. One quote that I did like came from Kiana in the first third of the broadcast. She said,
"But if you're always in the same environment, always doing the same things with the same people, you become naive. Or like, you don't really know about the world. It's better if you experience something different, because you get a feel of other people. And you end up changing, you end up becoming a different person, a lot based on the community you're surrounded by. And that's reality. Your environment really makes you."
This cultural exchange is exactly what the integration policy is all about. It gives a chance for students who may not know the culture of power to learn it from students who do. It allows both groups to learn from each other by bringing different experiences to the table. Like Kiana said, it changes the student based on the environment.