Most schools have some sort of special education program in them. Out of the three high schools in Warwick, my high school (Pilgrim) had the largest population of students in special education program in the city. The students had three or four classrooms in the math wing of the building they used for their classes. They were always part of the school yet at the same time, they were segregated.
At lunch
, they always sat at one table near the entrance of the cafeteria. It wasn't that there was a rule designating them to sit there. Nor was there a rule barring other students from sitting with them but it never happened.
Reading Kliewer's article reminded me of integration. The broadcasts from This American Life, (
Part One
and
Part Two
) demonstrated that racial integration allowed students from different backgrounds to learn from each other which helped in creating a better learning environment for everyone. Kliewer demonstrated with Isaac that a student with different learning capabilities is able to be in a classroom with non-disabled students and hold his own. Isaac was able to learn from others and showed a deep interest in reading. He was understanding the story, enough to act out portions of it for his classmates which shows comprehension.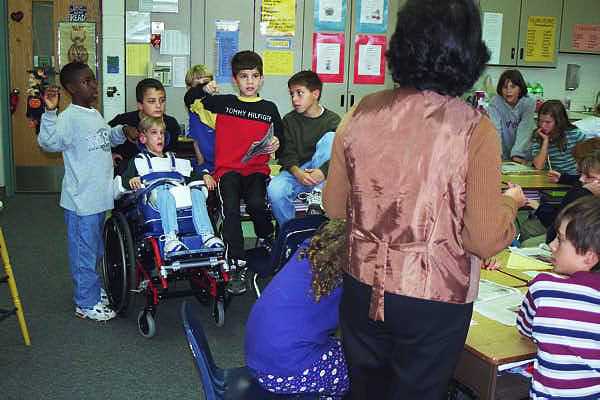 Integration began to happen at my high school in the last two years with a
unified basketball and volleyball team
. Non-disabled students are learning just as many lessons from those with disabilities as those with disabilities are learning from non-disabled students. At the MET, I noticed one student Friday morning who was disabled in the common room. Every time someone came in the building, he held the door open for them. The students thanked him and then went on their way. After reading this article, I'm curious to know if he is
in
an advisory with other students like him or if he's in a class like Shayne's from the article.
Pilgrim High School's Unified Volleyball Team